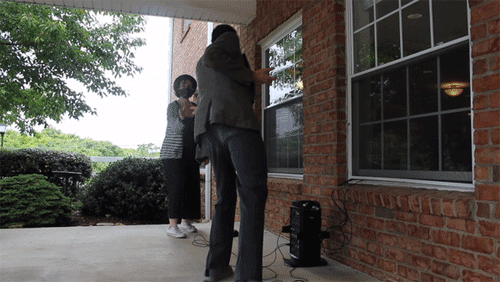 Theatre Through Windows
Co-Director, Facilitator with
Steven T. Licardi
While quarantining in Blacksburg, VA, my partner
Steven T. Licardi
and I have been developing creative engagement opportunities with elders that honor the need for social distancing.
Theatre Through Windows
consists of creative and playful interactions with elders at their bedroom windows or at large common area windows. We move through a combination of improv games ranging from the active and energetic to the quiet and reflective. We weave improv with spoken word poetry and call & response singalongs based on the day's theme (some recent examples include belonging, magic, and ancestry). The songs are drawn from Appalachian ballads and other folk tunes accessible for any voice.
Steven and I believe that creativity is for everyone. Creativity helps us challenge our minds and increase our cognitive reserve, build our social network, reduce stress, and develop within ourselves a greater sense of meaning and purpose. Playing together is healing. Laughter is good for the soul.
This work has spun out in a couple different directions:
- Steven and I are now mentoring a group of undergraduate students, with the loving encouragement of Dr. Ozzie Abaye at Virginia Tech, to lead Theatre Through Windows sessions, as part of a course rooted in service-learning.
- I'm working with

Dr. Matthew Komelski

at Virginia Tech to develop a suite of digital creative engagement programs for elders at Warm Hearth Village, a retirement and assisted living facility.