Hi, I'm Courtney (you can call me "C"). I'm a facilitator and worldbuilder. With reflective acuity and zany passion, my work spans theater-making, cultural organizing, oral history, healing arts, and creative ritual. Whether I'm making theater, writing, teaching, or consulting, I'm invested in the use of the arts and creative play to support people in knowing themselves better and living in the world more fully. The participatory art projects I create and faciliate are rooted in radical imagination, storytelling, and community care.
I'm proudly a queer, non-binary, Anti Zionist Ashkenazi Jew, and third-generation New Yawker. I call the occupied lands of the Matinecock and Lenape (Queens, NY) home.
I value intergenerational collaborations, and fiercely believe in the power of art making and creative play as tools for making policy and planning efforts more accessible and equitable. I seek to explore these questions through everything I do:
Who are we as people? What do we stand for? How do we want to be remembered?
I'm currently
a dual degree M.F.A/M.S. Candidate in the Theatre: Directing & Public Dialogue and Urban & Regional Planning programs at Virginia Tech. I'm here due to my belief in theater and art's power as a source for inciting and inspiring civic engagement and equitable shifts in policy and planning processes. I'm a 2020
Visiting Fellow
at Skidmore College's Storytellers' Institute, Member of the
Broadway Advocacy Coalition
and recent Co-Organizer of
The Theater of Change Forum
at Columbia Law School.
As a collaborating artist with The Clinic Performance, I offer one-on-one creative experiences designed to make health care workers feel seen, heard, and cared for amidst the increased impacts of compassion fatigue and moral injury amidst the COVID-19 pandemic.
As a collaborating artist with Ping Chong + Company, I develop documentary theater projects with teens and elders, adapting memoir into performance, rooted in cross-cultural connection.
Story is central.
I create art and community-based initiatives that consider how we perform our identities in our personal lives and how we are asked to perform in our civic discourse. I make devised theater collectively generated through story gathering, improvisation, scripted scenes, and sometimes audience response. I create documentary theater centering community narratives and have worked with people of all ages, including youth and elders separately and together through intergenerational projects. You'll find me directing, facilitating and/or performing.
Organizing and facilitation sustains me.
As a facilitator and civic practice artist, I collaborate and co-design with community partners and people around community-defined aspirations, challenges or visions. I believe in the power of theater, art making and creative play as tools for making policy and planning efforts more accessible, equitable and fun. My favorite rooms are the ones full of people who love to hijack process and don't get along. Bring me the rooms of policy wonks, managers, planners, lawyers, artists, or other facilitators. I relish the challenge of creating democratic space to host complex conversations and move groups towards consensus, evaluation, or reflection.
Humor is necessary.
Humor is a pivotal tool for healing, building connection, and imagining beyond our preconceived ideas and barriers. I connect my desire for humor with the cultural history of Jewish humor. Jewish humor laughs at authority and blurs boundaries. It is a response to historical trauma and oppression. Laughter as a resilience strategy is in my DNA.
Poetry drives me.
Poetry is my nourishment. I love poetry because it operates under an economy of means. It has continued to provide me with a sense of belonging through communities of shared place, intersectional identity, and vision.
From 2017-19, I was a
SU-CASA Artist-in-Residence with the New York City Department of Cultural Affairs, Fellow at
The Performance Project
at University Settlement,
EmergeNYC
Fellow at the
Hemispheric Institute
for Performance & Politics,
Social Practice Artist-in-Residence
at Queens Library with ProjectArt, and Teaching Artist with
Ping Chong + Company
and other cultural organizations.
More info if you want it:
I have participated in art residencies and fellowships to support learning and research at the intersection of art, policy, and social change, including
The Art & Law Program
, the
Center for Artistic Activism
's Art Action Academy, Forward Flux's artist think-tank
collaborate:create
, Gibney Dance's
Institute for Community Action
Training, the Mitchell Art Gallery at MacEwan University's Artist-in-Residence program, and the Creative Writing from Queer Resistance Workshop at the Leslie-Lohman Museum of Gay and Lesbian Art.
From 2015-17, I was the Program Manager at the Lowline, where I led STEAM education initiatives and curated public programs that fostered dialogue on the Lower East Side's multifaceted history and contemporary social struggles, innovations in tech and design, and sustainability initiatives such as aeroponics and rooftop gardening. I have 10+ years of experience working as a Teaching Artist with youth in a range of arts disciplines, with a focus on developing community-specific, interview-based artworks examining issues of culture and identity with teens and elders.
I have exhibited artwork and performed in the U.S. and Canada, most recently at Abrons Arts Center (NY), Dixon Place (NY), Goggleworks Arts Center (PA), the Leslie-Lohman Museum of Gay and Lesbian Art (NY), the Knockdown Arts Center (NY), the Mitchell Art Gallery (EDM, AB, Canada), the New York City Poetry Festival (NY), and Theaterlab (NY).
I hold a B.F.A. in Studio Art and Art & Public Politics from New York University after spending valuable time studying Fine Art at Suffolk County Community College.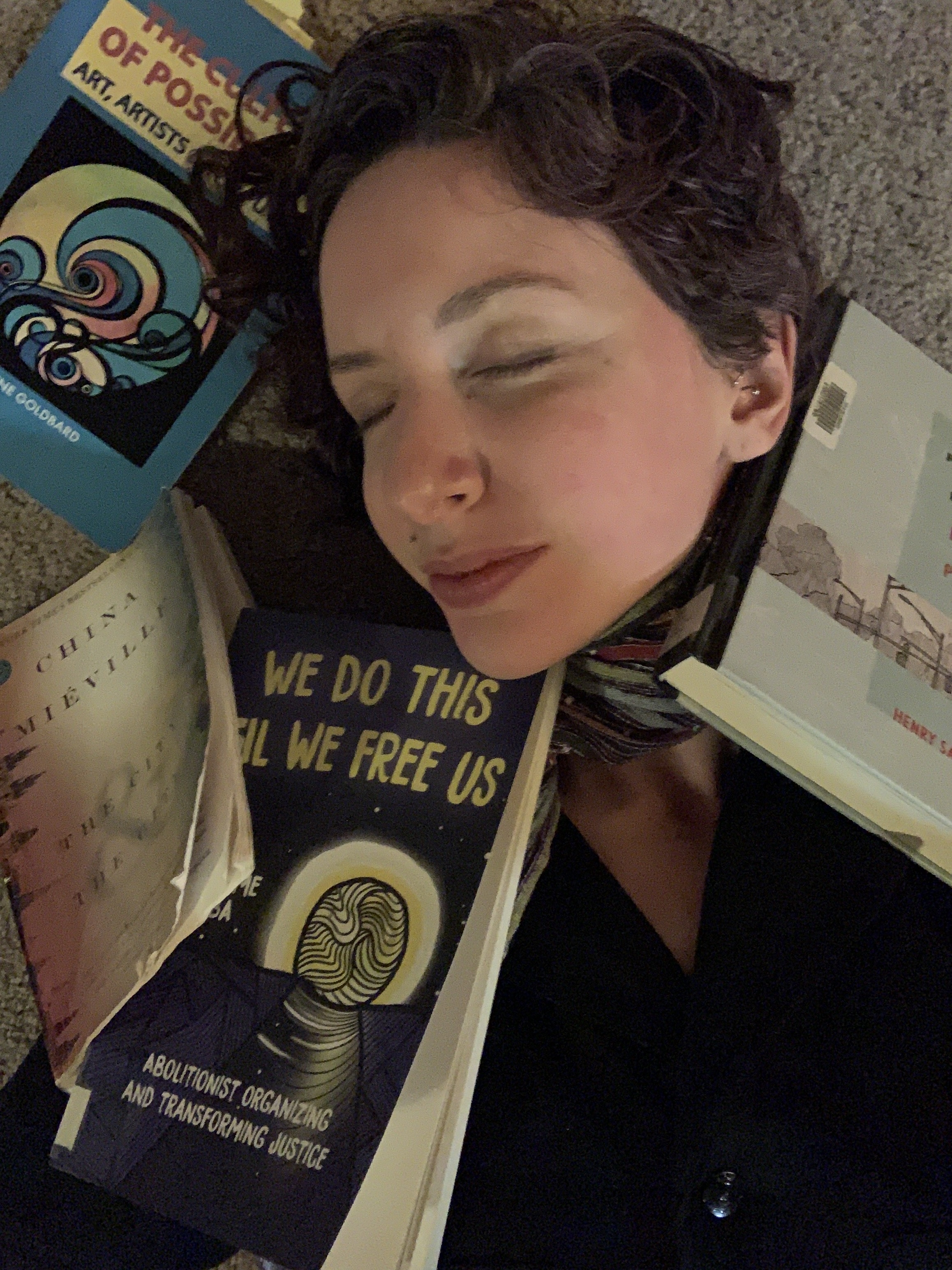 Photo Credits (1) Whitney Brown Photography, (2) Justin Codes, (3) Selfie, (4) María José, (5) Lee Wexler