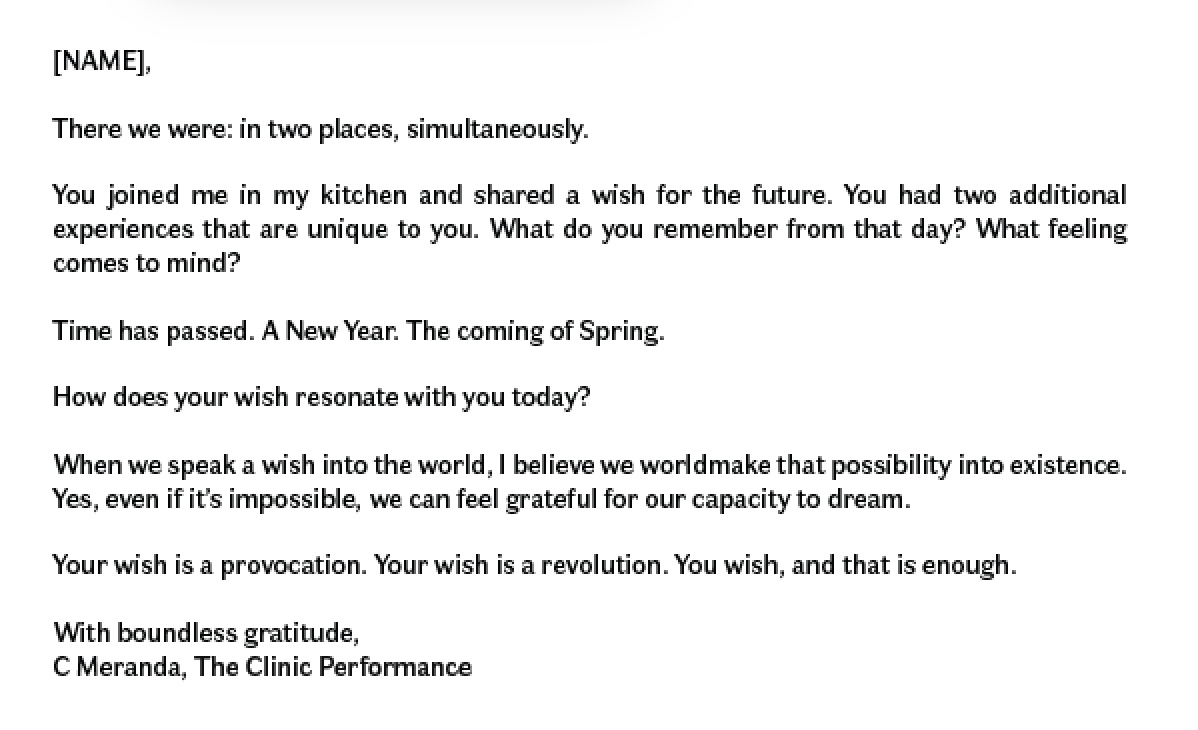 Image: Performance documentation from Whisk the Charts, Knead Grief.
Whisk the Charts, Knead Grief
Collaborator with
The Clinic
"Welcome, you've arrived in my kitchen--just one of many spaces where, from this point on, anything is possible, and your wishes can be fulfilled. We talk as if the real and the playful are separate. But, you and I know that isn't true. Places are imprinted with our memories. I also think we have the ability to shift places to incorporate just a little bit of magic when it's needed."
Whisk the Charts, Knead Grief
is a performance piece made for one person to experience at a time, with a trauma-informed focus on healthcare professionals. It was crafted with loving guidance through The Clinic's project Resiliency Moments, and in relationship with pieces created by an ensemble of artists that healthcare professionals cycle through online over the course of a 45-minute experience.
Over the course of the 10-15 minute experience, we make a recipe for a new world. The recipe is a provocation--a collection of the mundane and challenging tasks each person performs at work, infused with unlikely verbs from the world of baking. Each line of the recipe becomes a playful spell that ignites a wish that could counterbalance lack of fulfillment or other workplace diffcultis. Wishes range from "a collective release of tension" to "winning the lottery".
The Clinic Performance
creates art-based workshops and immersive performances that support health care professionals in rediscovering the inherent joy found in caring for another human being. Resiliency Moments are one-on-one performative experiences designed to offer health care professionals small moments of joy, wonder, and healing amidst their workdays.
Each moment thoughtfully interacts with the
Five Principles of Trauma Informed Care
laid out by the Trauma Informed Care Institute, the
three key elements of Self-Compassion
laid out by Dr Kristin Neff, and the four elements of the
See Me as a Person Framework
developed by The Daisy Foundation and Creative Healthcare Management, all through the lens of Playful Theatricality.
I'm currently leading Resiliency Moments online from home. I've created two scripted, though highly participatory and improvised, experiences:
Whisk the Charts, Knead Grief
(set in my kitchen), and
made for me and you
(set outside on my front porch).
To learn more about The Clinic,
click here
.